Brand design or corporate design is everything that visually represents a brand or a company.
A professional brand design or corporate design consists of way more than a logo. And a logo is NOT just a quick, mindlessly produced graphic.
A professional logo is created based on a lot of information kept in mind:
– who are you and your business and what do you offer?
– what are your core values?
– who is your target group?
And way more.
The design choices based on these answers should be backed with theory knowledge gained in professional education to make strategic decisions in order to attract your dream clients.
It's no use to have a pretty design if it isn't based on a strategy!
Otherwise, it won't help you to reach your brand or company goals and is just an expense rather than a valuable investment. A strategic identity design should help you with your personal fulfillment, it should help you attract clients that show appreciation for your skills and expertise and are willing to pay a fair price for your service and products so you can successfully live from it.
So, do you want to be perceived by your potential clients as a professional, no matter which contact point is the first?
When you give a potential client your business card do you want to be proud?
Do you wish to feel like your personality, your core values, your mission & vision got translated into a design.
If yes, then it is well worth investing in a professional Brand Identity Design (if your business is a brand) or Corporate Design (if it's a corporation). It's a visual representation of your brand or company, that communicates your values and helps attract your dream clients and reach your business goals.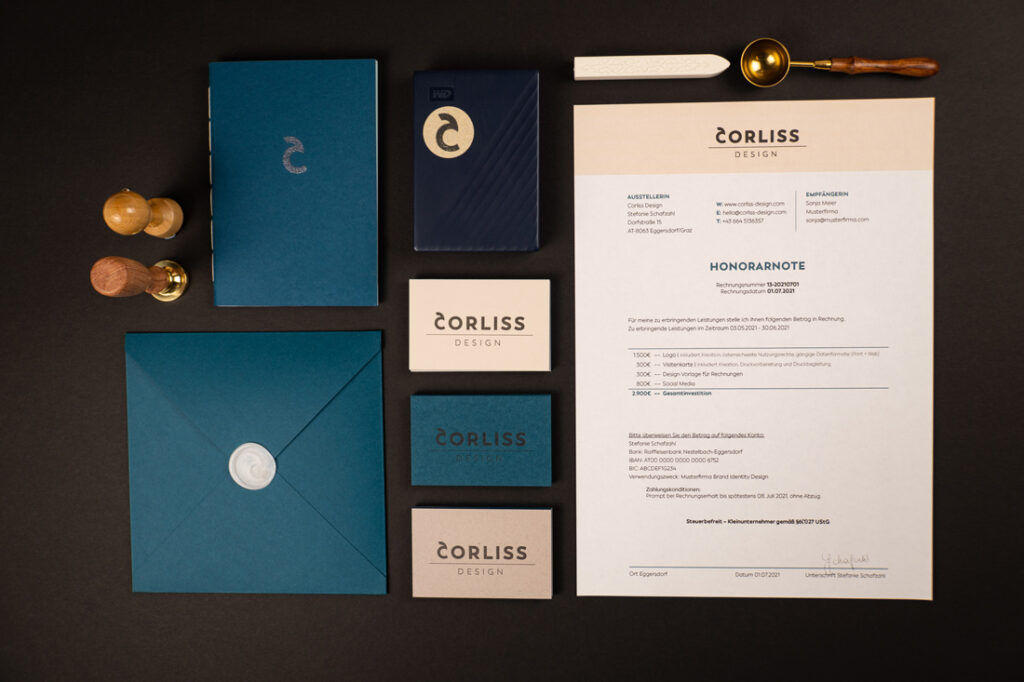 BRANDING
A logo is an essential part to create a brand, but it's not the only necessary thing. In order to create a true brand personality you need a whole Brand/Corporate Identity. The Brand/Corporate Identity is the self-representation of a company to the inside (within the company) and outside (to the public).
---
The Brand or Corporate Identity consists of 3 columns:

– Corporate Behavior
– Corporate Communication
– Corporate Design
A complete Brand or Corporate Design is about the visual representation of your business and includes:

– the logo with the clearly defined colors and fonts
– business cards
– stationary and envelopes
– package design
– flyer and other print media
– website and whole online presence (social media posts, stories), etc.
---
STILL NOT CONVINCED? LET'S DO A LITTLE BRANDING EXPERIMENT!
Which company do I mean when I tell you:
1) The first company is in the furniture industry and their main colors are blue & yellow (hint: they are from Sweden)
2) The second company is in the tech sector and they have a piece of fruit on their devices (hint: the fruit is bitten into on the right side)
3) The last company is in the clothing business and they use a simple checkmark as their logo (hint: Just do it!)
How many did you know? Well, you only know them because their branding is based on strategy, well thought through, and cohesive.
That's the power of branding and strategy!
Do you need a high-quality, professionally created
Brand Identity Design (or redesign) for your business?
Click on the button below to get in contact or book a free discovery call!